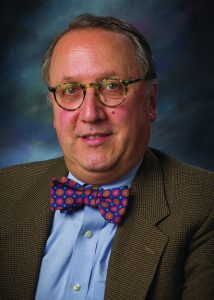 Grim, Biehn & Thatcher of Perkasie, Pa., is pleased to announce that Jonathan J. Reiss has been re-appointed to serve on the board of trustees of the Bucks County Historical Society.
Reiss is a graduate of American University's Washington College of Law and Georgetown University and is a member of the Pennsylvania and New York Bar Associations. He has been providing legal services in Pennsylvania and New York for more than 30 years with a focus on real estate law, land preservation, and representing local governments, municipal authorities and planning commissions throughout southeastern Pennsylvania. Reiss previously served on the board of trustees of Bucks County Historical Society from 2010 to 2015. He has also served on the boards of the Tinicum Conservancy, North Country Life Flight, Inc., United Way of Franklin County, Inc and Village 2 Community Association, Inc.
"We couldn't be happier that Jonathan is back on the board of the Bucks County Historical Society," said Gregory E. Grim, CEO, Grim, Biehn & Thatcher. "Jonathan is very community- minded and his background will help the historical society with their mission of collecting and preserving the history of Bucks County."
"The historical society's board is committed to strategically recruit community leaders who will positively impact our work," stated board chair Heather Cevasco. "During his previous involvement, Jonathan helped our organization connect with new supporters and new communities, expanding our reach throughout the county and the region. We value the role he will play moving forward to help the Bucks County Historical Society advance its mission and services."
About Grim, Biehn & Thatcher
Grim, Biehn & Thatcher has been providing trusted legal counsel, practical, commonsense advice and values-based business solutions to clients since the firm was founded by Webster Grim in 1895. The firm represents clients in the areas of Business, Commercial and Tax Law; Litigation; Family Law; Criminal Law; Landlord/Tenant Law; Municipal/Zoning Law; Personal Injury Law; Wills and Estates; and Real Estate Law. The firm prides itself on the following commitments it makes to its clients:
Responsibility – Recognizing that the firm is in a service business and that clients expect and deserve timeliness and responsiveness. This priority is embedded into the firm's culture and values.
Trust – Representing clients in a skillful and honest manner; taking ownership of every action in its dealings with clients and others with unyielding integrity.
Diligence – Providing the best service with confidence about what the firm does and always working hard to deliver quality service with the client's goals and best interests in mind for each legal matter.
Value – Striving to pool talents and resources to better serve clients and minimize unnecessary costs and expenses, thus providing increased value to its clients.
For more information about Grim, Biehn & Thatcher visit www.grimlaw.com.
###
Editor's Note: Photo Captions (photo courtesy of Grim, Biehn & Thatcher)