On Saturday, July 8, 2017, Tobyhanna Township of Monroe County will be hosting their annual Community Day at Blanch D. Price Park.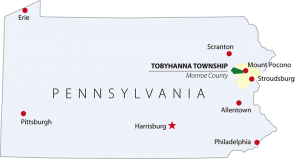 Tobyhanna Township is conveniently located in the heart of the Poconos of northeast Pennsylvania.  This event has food, fun and something for everyone!
Admission is free, and the "Party in the Park" will feature local food vendors and live musical entertainment from Organized Resistance and Everything Annie.
New for this year's event is the Pocono Beer Garden where you will find Susquehanna Brewing Co and the Jubilee Restaurant.
WHEN: Saturday, July 8, 2017 from 2:00 – 10:00 p.m.
WHERE: Blanch D. Price Park
Grim, Biehn & Thatcher is a proud sponsor of Tobyhanna Township's 2017 Community Day, and we hope to see you there, and don't forget to stay for the fireworks at dusk!